Assistant Professor Aziz Ezzat Forecasts a Bright Future for Offshore Wind Farms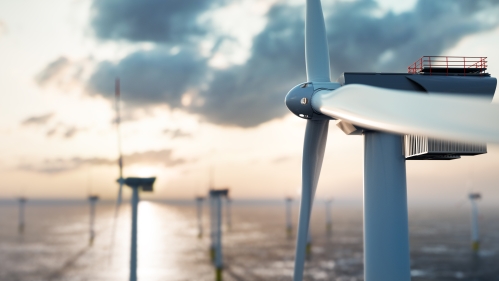 The Biden administration has set an ambitious goal to install 30 gigawatts of offshore wind capacity in the US by 2030. The U.S. Bureau of Ocean Energy Management is helping to meet this goal by giving the go-ahead to install a commercial-scale wind farm off the New Jersey Coast. The Ocean Wind 1 project, according to The New York Times, would produce enough energy to power as many as 400,000 homes, while creating about 3,000 jobs. 
"We're happy to see New Jersey at the forefront of this race – where everyone is a winner," Aziz Ezzat, an assistant professor in the Department of Industrial and Systems Engineering, states.  
Since joining the ISE department in 2019, at a time when interest in offshore wind was mounting, Ezzat says his Renewables and Industrial Analytics (RIA) research group has "been laser-focused on developing and testing innovative models and technologies that can improve the forecasting and operation of yet-to-be-installed offshore wind farms." 
Looking back, now that offshore wind turbine installation has been approved for waters off Atlantic City, Ezzat is glad to be contributing to the collective efforts, both inside and outside of Rutgers, that are enabling the reliable integration of offshore wind into our electricity systems.  
"This is a major milestone for the thriving U.S. offshore wind sector, and more importantly, to our national quest to mitigate the serious implications of a changing climate. When I first started working on wind energy roughly ten years ago, offshore wind was a distant dream. Today, the future is indeed bright for offshore wind." 
Meeting Environmental and Economic Goals 
The newly approved installation of as many as 98 offshore wind turbines puts New Jersey on the path to becoming a national leader in this growing industry. Ezzat is optimistic that this is an attainable goal, as the pace of research, innovation, and workforce development continues to accelerate.  
"Offshore wind is one of the few industries in which economic and environmental objectives go hand-in-hand," Ezzat explains. "Those offshore wind farms are expected to spur countless economic opportunities – from engineering and operations to supply chains and logistics – while powering thousands of homes with clean, renewable, and domestically generated energy. Benefiting most will be coastal economies and communities, like those in New Jersey, which is great news to all of us who live in the Garden State." 
A Leader in Innovative Offshore Wind Solutions 
Ezzat's wind energy research efforts have been supported by the National Science Foundation (NSF), the National Offshore Wind Research & Development Consortium (NOWRDC), and the New Jersey Wind Institute.  
His RIA group will continue to address the challenges of operating massive scale, towering offshore wind turbines – which are the largest rotating machines on earth – reliably and cost-effectively, while remaining mindful of the demands of a complex marine environment.   
"At Rutgers, we're fortunate to lead many offshore wind-related projects. My research group has been developing, together with our collaborators, partners, and industrial advisors, a suite of innovative solutions rooted in artificial intelligence (AI) and mathematical modeling, to improve the accurate forecast of the output of offshore wind turbines, and optimize their production, uptime and reliability," Ezzat reports.