A team led by chemical and biochemical engineering professor Tewodros (Teddy) Asefa has been issued a US patent for their sustained-release antimicrobial invention. The patent application, titled "Benzalkonium-embedded mesostructured silica compositions and uses of same," included the research of former doctoral student Viktor Dubovoy, master's student Anjani Ganti, and collaborator, Department of Biochemistry and Microbiology professor Jeffrey Boyd.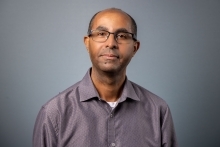 "The work took about three years," Asefa recalls. "But the patent process took some five or six years to be issued."  
It was worth the wait, as the novel invention – for mesoporous silica nanoparticles (MSNs) templated around antimicrobial agent benzalkonium chloride (BAC) – is potentially capable of sustained release for up to two weeks provided it is in a solution when added to products ranging from surgical dressings and deodorants to soaps and facial cleansers.  
The team tested broad-spectrum BAC successfully against Staphylococcus aureus and Salmonella enterica, although it is known to also target other bacteria such as MRSA, which means the novel invention has the potential to defeat additional microbes. 
Although the team hasn't produced prototypes, Asefa says that "the BAC-loaded silica nanoparticles that we invented should be applicable in acidic formulations, such as industrial cleaners."  
According to Asefa, while most of the work itself was conducted in Asefa's Nanomaterials Research Group laboratory, some NIH-funded antimicrobial studies were carried out in Boyd's Cooke Campus lab. "The design and synthesis of the BAC-loaded nanoparticles were funded by my Rutgers start-up fund." 
Commercialization of the new patent may be on the horizon. "We have some follow-up work that was funded by Rutgers' TechAdvance program for that reason," he reports. "We've been working to start up a company and raise funding and went through the Rutgers I-Corps Program and did some customer discovery and interest with co-partners to commercialize these antimicrobial systems."  
Asefa is also hopeful that another patent application related to similar antimicrobial systems will be issued. "We've obtained even more potent antimicrobial effects with those," he says.