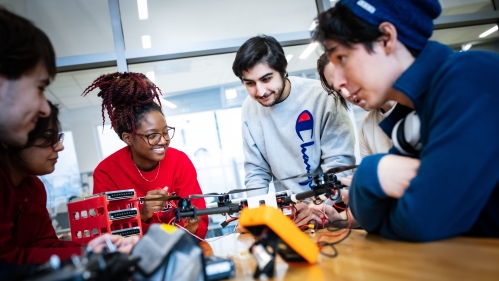 Support Rutgers Engineering
Support Rutgers Engineering
The continued support received from alumni, industry partners, parents, and friends allows the school to provide a quality academic experience, support student access and learning, and advance cutting-edge research. 
School of Engineering Funds
Allows maximum flexibility for resources to be directed to where the school's funding needs are most pressing.

These funds support students based on financial need and academic merit throughout their entire undergraduate years.

This fund provides immediate financial assistance to undergraduate and graduate students who are facing unexpected financial hardships.

This fund provides access to higher education for low income and traditionally underrepresented groups in engineering, as well as a summer bridge program, academic advising, mentoring, and professional development opportunities. 

Donations can be designated to support specific engineering departments.
Contact Us
For additional information about how you can have an impact with your gift, please contact:
Maria D. Sorensen
Senior Director of Development for Engineering
Email: mdsoren@soe.rutgers.edu
Office: 848-445-2369
Mobile: 973-454-9650