All Aboard: Rutgers Partners with NJ Transit and International Association on Training Center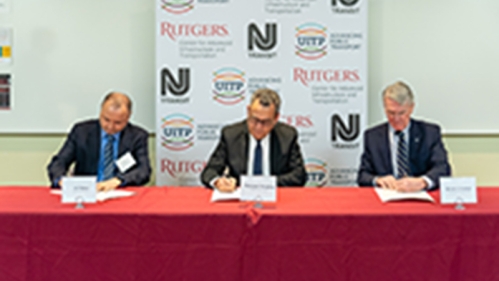 Leaders of the Rutgers Center for Advanced Infrastructure and Transportation (CAIT) are partnering with NJ Transit and the Union Internationale des Transports Publics (UITP) to create the training center at the CAIT building on Busch campus.  
The partnership marks the first UITP regional training center in North America. 
"Healthy infrastructure and transit systems serve as the backbone of the U.S. economy, and require a skilled workforce to maintain, operate, and improve them," said CAIT Director Ali Maher, a professor in the Department of Civil and Environmental Engineering in the Rutgers School of Engineering. "The current and future transit workforce will be tasked with addressing climate change impacts, building with resilience, and improving the equity of our transportation systems." 
Addressing those challenges will require smart, data-driven solutions and forward-thinking collaborations, Maher said. 
Officials gathered at CAIT on March 16 to formalize the partnership. Kevin S. Corbett, NJ Transit president and chief executive, was joined by UITP Secretary General Mohamed Mezghani and Maher in the CAIT auditorium to sign an agreement establishing the North American Regional Training Center. 
"NJ Transit is proud to lead this partnership that deepens our agency's commitment to developing the next wave of leaders in the transit space," said Corbett, who also is the North American representative to UITP's policy board. "NJ Transit has benefited greatly from its membership in UITP since 2018, which has given us access to industry best practices, both nationally and globally, as well as the latest innovations in the U.S. and around the world." 
The North American Regional Training Center will provide high-level courses on the fundamentals of public transport, bus planning, rail operations, railroad maintenance and fare management. 
The courses will cover critical topics ranging from railroad track servicing, inspection and repair, to analyzing trends in urban mobility for maintenance managers, fleet supervisors, operations coordinators, planning and finance staff, and other professionals in public transport. 
"NJ Transit is proud to be a part of establishing UITP's first Regional Training Center in North America," said Diane Gutierrez-Scaccetti, New Jersey Department of Transportation commissioner and NJ Transit board chair. "The training sessions to be held at the Rutgers CAIT will offer valuable information to help drive innovation in our industry. This partnership affirms both NJ Transit – and the state of New Jersey – as worldwide leaders in public transportation services." 
By gathering international experts and industry leaders at CAIT, the training sessions will provide transportation education and an opportunity to establish uniform standards and best practices nationwide. ​​The training center also will provide transit agencies in North America with access to a worldwide network of data and catalogs of programs driving innovation within rail and bus, officials said. 
UITP, also known as the International Association of Public Transport, is the only worldwide organization dedicated to bringing together all public transportation stakeholders to advance the quality of life in cities globally. The Brussels-based organization has centers in Europe, Asia, South America, Africa and now North America.  
 
"Throughout its long history as an association, UITP has worked to advance sustainable urban mobility by collaborating alongside our members and external partners," Mezghani said. "Collaboration is key - and we strive to do this across the globe to best reflect our international membership. I am delighted that UITP will partner with NJ Transit and Rutgers CAIT to establish the first UITP Regional Training Center in North America. This is an important time for our sector, and this new partnership will provide an excellent opportunity for industry leaders to bring their expertise to a whole new audience in North America." 
Rutgers CAIT trains thousands of transportation professionals annually in courses ranging from infrastructure resilience planning to track asset-management systems.