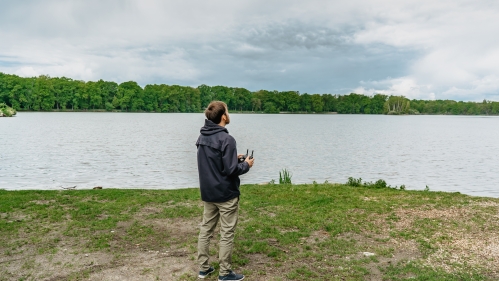 Water Testing Drone Project
Student-led NASA USRC Funded Drone Based Water Quality Testing Project 

Launches Crowdfunding Campaign to Reach Their Goal
The Drone Based Water Sampling and Quality Testing project has been awarded a grant from the NASA University Student Research Challenge (USRC) program. The team currently consists of Mohammad Katibeh as the student principal investigator, with student researchers Darwin Charles, Hirva Jadav, and Nazim Erol. Profs. Onur Bilgen (MAE) and Nicole Fahrenfeld (CEE) as the faculty PIs. RU MAE alumni Ruchit Jathania, and Purdue engineering student Eric Palia have worked over summer 2023 to make significant progress. This competitive grant is one of only a handful of awards in the nation awarded by NASA each year. This special program requires the student to be the PI. This project leverages a NJ Sea Grant funded project with Nicole Fahrenfeld, Michele Bakacs (RU Cooperative Extension) and the Lower Raritan Watershed Partnership that is monitoring and source tracking fecal pollution on the Lower Raritan River.
The quality of water in rivers and waterways should be monitored regularly. Using autonomous systems will increase the spatial resolution of sampling while providing improved ability to provide composite samples for analysis. The anticipated outcome will be reducing labor/need for sampling vessels to while generating more representative samples to improve our understanding of contaminant fate and transport in surface waters. Example target contaminants include emerging (e.g., microplastics) or regulated (e.g., pathogens linked to compliance with Section 303d of the Clean Water Act).
The USRC program aims to inspire students to propose novel aeronautics ideas and concepts that are pertinent to NASA Aeronautics. USRC provides students, from accredited U.S. colleges or universities, with grants for their projects, and it includes the unique challenge of raising at least $2,000 funds through crowdfunding. The total award to the Rutgers Team covers materials, one-month summer salary for five undergraduate researchers, travel, and the indirect costs.
The lead advisor of the team, Dr. Onur Bilgen, has suggested the USRC solicitation to his senior design team members in Fall 2022, and provided them with an example USRC application that he successfully advised previously. The original team included MAE students Michael Leitner, Ruchit Jathania, Zachary Smolder, Mohamed Haroun, and Xavier Garay. Drs. Bilgen and Fahrenfeld advised the team in grant writing and organization, carefully revised their draft, and created a budget for them. Dr. Bilgen also coordinated internal procedures and obtained approvals from the Rutgers Office of Research and Economic Development (ORED).