Pathways to Diversity and Inclusive Excellence in Engineering Education Seminar Series
What is the seminar series about?
The overarching goal of this project is to provide a mechanism for enhancing the climate, culture, and training of educators in STEM fields via a series of targeted seminars framed on providing inclusive and accessible engineering education pedagogy and practices through a collaboration between the School of Engineering and Graduate School of Education.
This educational series is funded through the Rutgers IDEA Innovation Grant.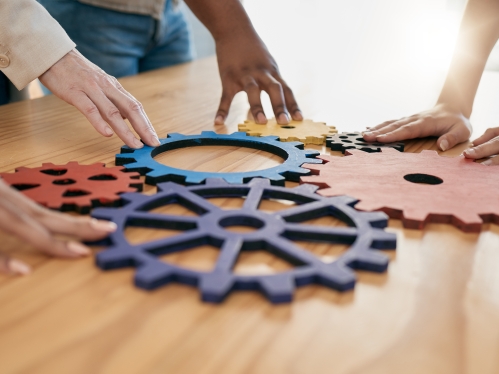 September 14, 2022

About the Speaker

Dr. Jeremi London is an associate professor of engineering education and the instructional innovation lead on Virginia Tech's Innovation Campus. London's commitment to bridging the gap between research and practice in engineering education is the focus of her scholarship. Her scholarly interests have been supported by over $6M and resulted in over 100 peer-reviewed articles, best paper awards, and keynote addresses. London's most prestigious research award, an NSF CAREER award entitled "Disrupting the Status Quo Regarding Who Gets to be an Engineer", blends her interests in the study the path to meaningful impact in the context of broadening participation of underrepresented groups in engineering. London's quest to integrate research and practice has also led to meaningful student outcomes and national leadership roles--the most notable of which was Chair of the American Society for Engineering Education's Commission on Diversity Equity and Inclusion during its Year of Impact on Racial Equity (2021-2022). London holds B.S. and M.S. degrees in Industrial Engineering, and Ph.D. in Engineering Education, all from Purdue University.

September 15, 2022

About the Speaker

Joi Mondisa, PhD, is an Assistant Professor in the Industrial & Operations Engineering Department and an Engineering Education Faculty Member at the University of Michigan.  Prior to her graduate studies, she worked as a professional in the areas of manufacturing, operations, technical sales, and publishing for ten years.  She also served as an adjunct faculty in the Engineering Technology Program at Triton College in River Grove, IL for seven years. Dr. Mondisa is a recipient of the prestigious National Science Foundation's Early CAREER Award.  In her research, she examines mentoring underrepresented populations in STEM; mentoring experiences and intervention programs in higher education; and learning experiences in engineering education.

September 21, 2022

About the Speaker

Erin A. Cech is an Associate Professor in the Department of Sociology and Associate Professor by courtesy in the Department of Mechanical Engineering.

Cech joined the University of Michigan in 2016. Before coming to UM, she was a Postdoctoral Fellow at the Clayman Institute for Gender Research at Stanford University and was on faculty at Rice University. She earned her Ph.D. in Sociology from the University of California, San Diego and undergraduate degrees in Electrical Engineering and Sociology from Montana State University.

Cech's research examines cultural mechanisms of inequality reproduction--specifically, how inequality is reproduced through processes that are not overtly discriminatory or coercive, but rather those that are built into seemingly innocuous cultural beliefs and practices. She investigates this puzzle through three avenues of research. First, she uses quantitative and qualitative approaches to examine inequality in science, technology, engineering and math (STEM) professions--specifically, the recruitment and retention of women, LGBT, and under-represented racial/ethnic minority students and practitioners and the role of professional cultures in this inequality. Second, Cech examines how cultural definitions of "good work" and "good workers" can anchor inequality in the workforce. For example, she examines the role of the "passion principle" in the reproduction of occupational inequalities: how seemingly voluntary and self-expressive career decisions help reproduce processes like occupational sex segregation. Finally, she studies how cultural understandings of the extent and origin of inequality help to uphold unequal social structures. Cech's research is funded by multiple grants from the National Science Foundation. She is a member of the editorial board of the American Journal of Sociology and her research has been cited in The New York Times, Harvard Business Review, Time, The Washington Post, The Guardian, Forbes, Chronicle of Higher Education and the news sections of Science and Nature.

October 6, 2022

About the Speaker

Dr. Mariel Pfeifer is a postdoctoral researcher at the University of Georgia. She earned her Ph.D. in Plant Biology at the University of Georgia where she received an NSF Graduate Research Fellowship and an ARCS Foundation award. As part of her dissertation, she conducted both bench and education research. Her education research focused on the self-advocacy experiences of STEM undergraduates with ADHD and specific learning disabilities. Prior to starting graduate school, Mariel worked as a disability services coordinator. It was in this role that she first became interested in self-advocacy. Now, she investigates science identity in research trainees and plans to continue to study self-advocacy in STEM undergraduates.
March 30, 2022

About the Speaker

Dr. Hervens Jeannis hails from Norwalk, CT, received his bachelor's degree in Computer Engineering from Syracuse University and master's degree in Systems Engineering from the University of Maryland, Baltimore County. While conducting his doctoral studies focused on rehabilitation engineering, at the University of Pittsburgh, he was recognized as an NSF IGERT fellow. In his work with the Human Engineering Research Laboratories, he spearheaded a nationwide survey of science and engineering laboratories aimed at enhancing the learning experience of students with physical disabilities, publishing multiple articles. He served as keynote speaker to several venues in 2021. Dr. Jeannis has been working at The Boeing Company for the past few years, was selected to participate in Boeing 2022 Future Leaders Workshop. He is married to his beautiful wife, living in CT in his new home, preparing for his newborn.

April 14, 2022

About the Speaker

Allison Godwin, Ph.D. is an Associate Professor of Engineering Education and of Chemical Engineering at Purdue University. She is also the Engineering Workforce Development Director for CISTAR, the Center for Innovative and Strategic Transformation of Alkane Resources, a National Science Foundation Engineering Research Center. Her research focuses on how identity, among other affective factors, influences diverse students to choose engineering and persist in engineering. She also studies how different experiences within the practice and culture of engineering foster or hinder belongingness and identity development. Dr. Godwin graduated from Clemson University with a B.S. in Chemical Engineering and Ph.D. in Engineering and Science Education. Dr. Godwin currently serves as the Chair of the American Society for Engineering Education Educational Research (ASEE ERM) and Methods Division and an Assistant Editor for Chemical Engineering Education. She has won several awards for her research including an NSF CAREER Award, a 2019 Clemson University College of Engineering, Computing, and Applied Sciences Outstanding Young Alumni Award, 2017 the IEEE Frontiers in Education Benjamin J. Dasher Award, and the 2020 ASEE ERM Best Diversity Paper Award. In the classroom, Dr. Godwin has also been honored with awards for teaching including being invited as a participant in to the 2016 National Academy of Engineering Frontiers of Engineering Education Symposium and being awarded the 2018 Purdue University College of Engineering Exceptional Early Career Teaching Award.