The Class of 2022 Graduates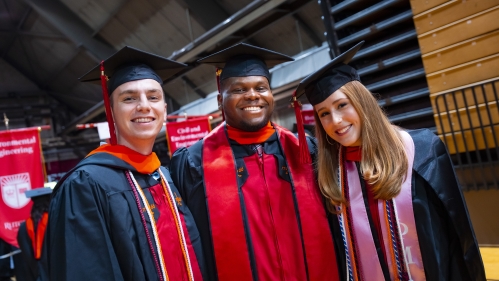 Another graduating class is in the books for the School of Engineering with the convocation celebration on Friday, May 13, 2022, for the Class of 2022. The event gathered nearly 1,000 students along with families, friends and faculty to applaud their achievements at Jersey Mike's Arena. Degrees were awarded across 10 majors, representing the diverse fields of engineering. 
Rutgers School of Engineering's Dean Tom Farris presided over the ceremony, remarking on the unique time the students experienced. "Unlike thousands of other School of Engineering graduates, your studies were rocked by a global pandemic that impacted every aspect of life as we knew it," he said. 
He congratulated the students on their perseverance through remote learning, missed internship opportunities, and separation from each other.  
Student speaker Aarushi Govil, who graduated with a degree in chemical and biochemical engineering, encouraged students to not forget what Rutgers taught them as they move on to careers, graduate school, and new experiences. "Rutgers taught us all how to continue to stand up and speak for those who can't, and with an engineering degree you have the ability to make a strong difference in your community," she said. "Rutgers taught us how to take knowledge and expand our horizons, and with this degree you have the opportunity to innovate, create, and design—making the world truly limitless." 
Before the degrees were awarded, School of Engineering alumnus Ramsey Homsany recounted his experiences since graduating from Rutgers and how his engineering degree has shaped his life. 
"American welcome immigrant families like mine," he said. An engineering education prepared me for critical thinking, problem-solving and just about any challenge that may come our way. The legal profession taught me to think and care about society. And the American spirit of entrepreneurship inspired me and my current colleagues to create a startup of our own. These traditions guided my journey. And I believe they can inspire your journeys – and our nation's – through the troubles ahead." 
After the last degree was awarded and all the students had processed across the stage, Dean Farris invited all to rise and move their mortar board tassels from right to left, signifying their passing from student to alumnus.