Alberto Cuitiño Appointed Dean of the School of Engineering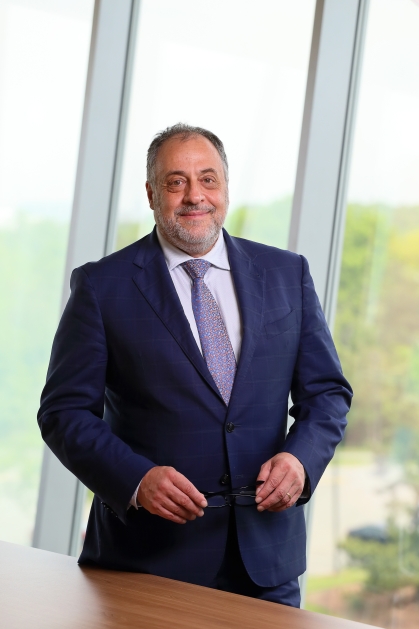 Alberto Cuitiño's appointment as dean of the Rutgers School of Engineering (SoE) was announced today by the university. Cuitiño is the eighth dean to lead the school. 
"Dean Cuitiño has been an invaluable partner and leader since assuming the interim deanship in June 2022," says Rutgers University-New Brunswick Chancellor-Provost Francine Conway in naming him dean. "I am grateful for his dedication to our mission of excellence in education, research, and service, and am proud to welcome him as permanent dean."  
As interim dean, Cuitiño worked to further SoE's standing and reputation as a leading nationally ranked engineering program. Under his stewardship over the past eight months, the school welcomed the largest first-year engineering class in its history; initiated several full-time faculty searches resulting in talented and diverse hires; continued to secure funded research in today's most innovative fields of study; and identified and advanced strategic initiatives by establishing a translational program on pharmaceutical manufacturing and professional and executive master's degree programs in engineering. As a champion of the school and university, Cuitiño has also reinvigorated alumni and donor relationships with the school and envisioned new ways for supporters to impact students.  
"I am honored to be named the dean of the School of Engineering and pleased to continue to advance targeted initiatives to move the school forward by training the next generation of engineers in a supportive community that celebrates diversity, inclusion, and collaboration at a critical time in our nation's technological growth," says Cuitiño.  
Under his earlier leadership as professor and chair of the Department of Mechanical and Aerospace Engineering, the department added several new full-time faculty members, established a bachelor's degree in aerospace engineering along with a Master of Engineering degree, and international 3+2 and 4+1 programs. He oversaw the development of graduate certificates in advanced manufacturing, robotics and automation, space, additive manufacturing, and business innovation. 
Cuitiño also served as the Rutgers site leader in establishing the National Science Foundation (NSF) Engineering Research Center for Structured Organic Particulate Systems (ERC-SOPS). A Fellow of the American Society of Mechanical Engineers, he joined the School of Engineering in 1993. As dean, he will continue to serve as professor of mechanical and aerospace engineering. 
"It's an exciting time to be an engineer and to be at Rutgers School of Engineering. I look forward to further strengthening our school's growing national reputation as one that prepares students to discover and engineer solutions to some of society's most pressing problems," Cuitiño adds.