Rutgers Day at the School of Engineering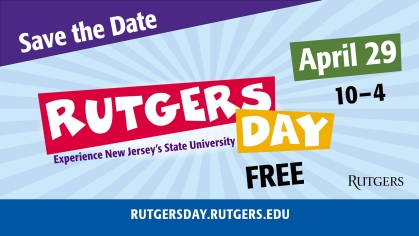 Rutgers Day is a free, annual event open to the public and your chance to get a glimpse of exciting things happening at New Jersey's state university. With free performances, tours, exhibits, hands-on activities, demonstrations, food, and more, Rutgers Day will engage and inform you about the valuable contributions the university makes to the people of New Jersey and beyond. 
Learn about all Rutgers-New Brunswick based programs. 
Don't miss the Busch "Science Campus" and experience all things Engineering!
•    Edible 3D Printing 
•    Desktop Smart Factory
•    Robo Dog 
•    Glass Blowing
•    Packaging Engineering Extravaganza 
•    Liquid Nitrogen Ice Cream
•    Demonstrations by student organizations - Concrete Canoe and Steel Bridge teams
Bar-B-Q grill, cooked and served by Engineering students. All proceeds benefit School of Engineering student organizations (11:30 a.m. - 3 p.m.)
STAY TUNED FOR MORE PROGRAMS - CHECK BACK CLOSER TO RUTGERS DAY
Engineering Alumni Dessert and Lemonade Social
2 p.m. to 4 p.m.
Meet newly appointed Dean Alberto M. Cuitino, catch up with fellow graduates and faculty, and get swag in the Alumni Tent on the Engineering Quad.
Register for the Alumni Social today!
PARKING & TRANSPORTATION
All university parking lots are open and FREE on Rutgers Day. Our roads are clear and our routes are streamlined. The Rutgers Day shuttle is free and easy to use if you need to travel between campuses.