Rutgers Team to Participate in 2024 DOE Marine Energy Collegiate Competition for the First Time
Rutgers is among 20 universities chosen to participate in the Department of Energy's 2024 Marine Energy Collegiate Competition (MECC). The RU Power team includes team captain Katherine Moreira, secretary Krista Chempiel, engineering team member Kaetana Degiovanni, marine science sub-team lead Zachary Soricelli, and business & marketing sub-team lead Rylie Gantz. This is the first Rutgers team to take part in the prestigious competition. Multidisciplinary advisors include Prof. Onur Bilgen (lead advisor), and Dr. Gregory Methon from Mechanical and Aerospace Engineering, Profs. Josh T. Kohut, Travis Miles, Alexander López, and Robert Chant from Marine and Coastal Sciences, Prof. Kevin Lyons from Supply Chain Management, and Prof. Rachael Shwom from Human Ecology.
Prof. Bilgen has received a DOE Advanced Research Projects Agency-Energy (ARPA-E) SHARKS funding to develop and test novel hydrokinetic turbine designs, as well as a grant to model offshore wind turbines using method of control co-design optimization from the ARPA-E ATLANTIS program.
A Multidisciplinary Competition
Launched in 2020, the highly competitive, multidisciplinary MECC is designed to prepare a future marine energy workforce. The 20 selected undergraduate student teams will apply a range of disciplines to design, build, and ultimately test small prototypes of marine energy technologies.
Phase 1 of the 2024 MECC kicked off in fall 2023, where RU Power Team began to address the 2023 MECC's challenges. The first is designing their unidirectional hydro-kinetic turbine. The second challenge involves researching potential sites, choosing optimal turbine components, and creating a financial and logistical plan for theoretical applications. Third, the team will create outreach materials to raise community marine-energy awareness, and network with industry professionals to learn about career opportunities.
The team has already received $5,000 in Phase 1 funding to fulfill its MECC challenges this semester. If selected as one of the Phase 2 MECC finalists, the RU Power Team will continue to develop its project during spring 2024, and will present their final at the Final Competition Event in May 2024.
Join the MECC Team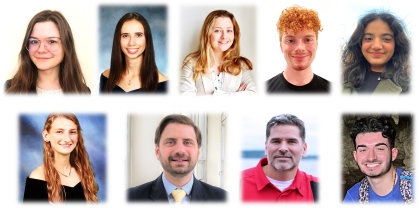 "We are still welcoming undergraduate team members," says Moreira, the Team Captain. Anyone interested in joining the team or in sponsoring RU Power, please contact Team Captain Katherine Moreira at katherine.moreira@rutgers.edu. More information about the MECC, is available here.