Meet Materials Science and Engineering Student George Wenson
Rutgers Honors College student George Wenson earned his BS in materials science and engineering (MSE) in 2023 and expects to receive his master's in December 2023. He is the recipient of the Allison Leroy scholarship for his outstanding academic achievements at Rutgers. A LSAMP (Louis Stokes Alliance for Minority Participation Program) scholar, his research focuses on polymers and their applications.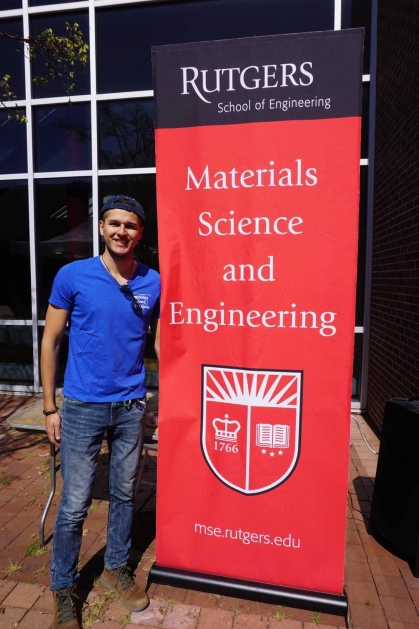 Why Rutgers? 
I picked Rutgers because of the great variety of student organizations, and because I knew I wanted to major in MSE when I was choosing colleges and Rutgers offered it. 
What drew you to MSE? 
I was drawn to MSE because, as an engineer, and as a human being motivated to improve the world around me, I strive to bring the future we want to the present.  
The boundary of our technologies lies within the materials available to us. Every effort to make a more sustainable future involves materials engineering problems that need to be solved.  
Have you been involved in any research projects?  
 As an undergrad, I did research under Professor Richard Haber developing the next generation of resins for the 3D printing of high-performance ceramic materials.  
What do you like most about the faculty? 
I really like how accessible the research opportunities are. The MSE faculty is always looking for students, and research opportunities are just an email away. 
Have you had any internships?  
I've had several internships. My first was at Los Alamos National Laboratory where I worked on reporting the degradation behavior of mixed cation organic-inorganic perovskite solar cells meant for CO2 reduction applications. From this experience, I was able to write my very first academic paper and get it published.  
My next internship was at Procter & Gamble, where I was a manufacturing intern working on the newest Charmin lines.  
And my most recent internship was at an emerging company called BWX Technologies where I was a ceramics processing intern in charge of developing a new processing method for the next generation of nuclear fuels for nuclear thermal propulsion.  
What are your future plans? 
 After I graduate with my Master's, I'm looking to get my PhD in Germany working on the use of dielectric polymer actuators for synthetic muscle applications. I am hoping that this innovation can help to create more realistic and advanced prosthetics for people who have lost limbs or to help improve motor functions for the elderly population. 
What advice do you have for future students? 
Understand that on a resume GPA and classes are secondary to the experience and skills you have built through your time at Rutgers. I've seen too many classmates not focus on getting experience through internships and on-campus research opportunities, which has affected their employment opportunities. 
There are a million students with good grades, but engineering jobs are not about sitting in a classroom all day and answering test questions.  An engineering job is about solving problems that nobody has solved before.  
What three words best describe your SoE experience? 
Camaraderie. Creativity. Challenges.