MAE Doctoral Student Wins Prestigious NSF GRFP Fellowship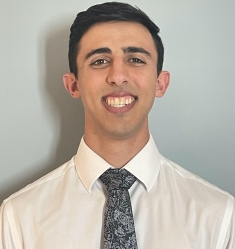 This was clearly the right choice for Cleeman, who is the recent recipient of a highly competitive and prestigious National Science Foundation (NSF) Graduate Research Fellowship Program (GRFP) award.  
"Jeremy has shown superlative intellectual capacity and significant fortitude in his work as a graduate student," says Malhotra.  
Cleeman's five-year NSF GRFP award provides three years of financial support, including an annual stipend and tuition, as well as access to professional development opportunities. 
As the nation's oldest fellowship program, the NSF GRFP has a history of  recognizing and supporting outstanding graduate students in STEM who are deemed likely to achieve significant success in their careers. Cleeman joins a roster of  past winners that includes 42 Nobel laureates and more than 450 members of the National Academy of Sciences. 
Exploring Additive Manufacturing 
As an undergraduate, Cleeman conducted research involving pulsed light sintering of embedded circuits. He co-authored a paper on "Enhancing Conductivity in 3D Bulk-Embedded Electronics," published by the American Society of Mechanical Engineers (ASME) and presented his work at a national ASME conference. 
"His research is tackling a difficult and long-standing problem in the rapidly emerging area of large area additive manufacturing. The scientific findings and engineering innovations he makes will have a long-standing impact across a diverse range of industries," says Malhotra. 
Cleeman is currently focusing his research efforts exclusively on 3D printing innovation. "We are breaking new ground in 3D printing," he says of a new printing process he and other students  have been developing in Malhotra's Advanced Manufacturing Sciences Lab. "Our process can greatly reduce the time and cost of 3D printing while expanding production capacity."  
In fact, Cleeman and fellow PhD student Alex Bogut are co-inventors with lead inventor Malhotra of a pending patent for the process that they hope to ultimately commercialize. "I plan on creating a startup company based on the technologies we develop," Cleeman predicts.