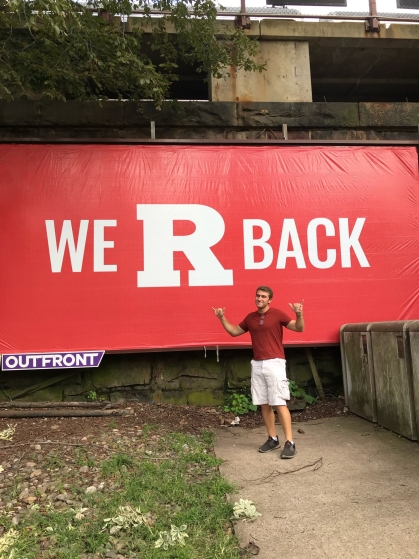 When I want a break from studying, there are always great things to do on- and off-campus.  
Start with RU Cinema that has premiere screenings the day before official releases. I've seen Marvel movies and horror films a day early – and tickets and snacks are so cheap. RU Cinema has spoiled me. 
From Comedy to Puppy Yoga 
The Rutgers University Programming Association (RUPA) and Rutgers University Student Assembly (RUSA) organize terrific events. In past years, I've gone to a RUPA comedy/improv show starring SNL writers, a Paint 'n Sip event where I learned to paint a cherry blossom while eating hors d'oeuvres.  
Then there's puppy yoga, which I can't wait to do again. I was surrounded by puppies and it was amazing.  
You can fill up your calendar with a diverse selection of events such as a tie-dye event, movie nights, dances, and more. I love having to decide what event to go to. 
Getting Physical 
Want to try a sport or a new physical activity? Your choices are endless. I joined recreation soccer, recreation tennis, and pick-up volleyball. I took a dance class and tried canoe battleship. And there are plenty of one-day sports tournaments. 
Best of all, no commitments are needed when you just want to add something stress-relieving to your week. 
All That Jazz 
Downtown New Brunswick is home to jazz shows, comedy shows, basement shows featuring new bands, and the NJ State Theatre.  
At some point, every student must see a show – whether it's a rock tribute band, off-Broadway musical, live orchestras, or stand-up comedy – at the NJ State Theatre. 
Taking Time to Unwind 
Every SoE student has a favorite spot to unwind on campus.  
The upper floors of Richard Weeks Hall have small conversation areas with comfortable seating and tables, where you can decompress and go through emails and lecture slides. 
I can personally recommend the third floor of ARC (Allison Road Classroom), which has cool science experiments you can play with; the Cook campus animal farm, where the baby lambs and goats bring instant joy; and the ping pong table and views from the CoRE (Computing Research and Education) top floor.