Finding Independence While Studying Abroad
"The experience made me more independent and more comfortable with traveling." – Sam Marran 
Sam Marran, a middle distance runner on the Rutgers track and field team and 2021-22 All-Big Ten Student Athlete, expects to graduate with a major in electrical and computer engineering and a minor in economics in 2024. In the summer of 2022, after traveling in The Netherlands and in the UK for a week, he studied at the London School of Economics for six weeks. Here, he talks about his experience. 
Why did you choose to study abroad? 
My mother really encouraged me to study abroad. She'd been a double major in accounting and Spanish and had studied in Spain. She said it was the best experience of her college career. 
What did you study in London? 
Since we have to take an economics in engineering course, I decided to take micro- and macro-economics in London. Now, I only need three more courses to finish a minor. My dad studied engineering, but is in business and I've also had an interest in business.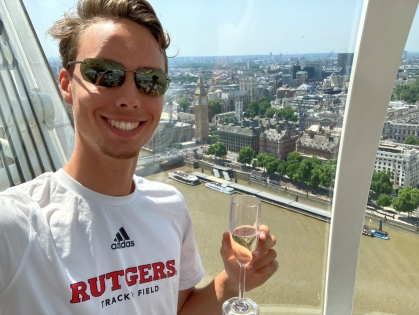 What do you most value about your experience? 
Definitely the people. I met a diverse group of people, some of whom I'm still in touch with. In fact, I had a meet-up in Boston with a few recently. 
I loved getting around the city on a bike. I could beat people who were taking the tube sometimes by biking. 
The experience also made me more independent and more comfortable with traveling. 
As a Rutgers student athlete, were you able to keep up with your training while in London? 
I found a nice park in London, near my dorm where I could run.  
Would you recommend the London School of Economics program to other students? 
Yes, definitely. It's a great way to meet other people and make new friends. It's hard to study abroad for a semester for most engineering students, but a summer program like this one is a good way to experience another country and meet a diverse people.  
What are your plans for this coming summer? 
I'll be working for engineering firm Burns McDonnell in Connecticut. Since high school, I've always liked to do something different every summer.