Engineers in Action Build Bridge in Africa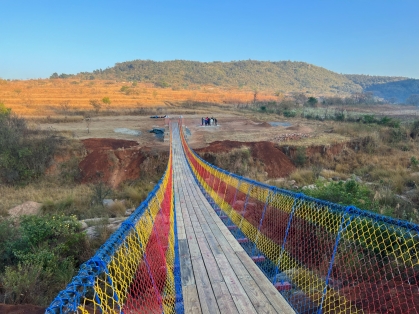 This summer, three student members of the Rutgers Engineers in Action (EIA)  chapter journeyed to the nation of Eswatini in southern Africa to build a footbridge. The civil and environmental engineering students were among 12 students – including seven from Cornell University and two from University College-London –  who embarked on the eight-week Mandlakhe Suspended Footbridge Project.  
Completed on schedule in August, the footbridge, according to the Times of Eswatini, will benefit at least 2,500 local  community members who can now walk across a ravine after previously relying longer routes to access their children's schools and other locations.  
The students were joined by an engineer, as well as members of the Mahlalini and Skhotseni communities who provided help from carpenters, masons, and workers, according to EIA faculty advisor and civil engineering professor Husam Najm.    
A Unique, Hands-on Experience 
Najm reports that this was a tremendous experience for the students. They had to acquire the necessary visas, vaccinations needed for international travel,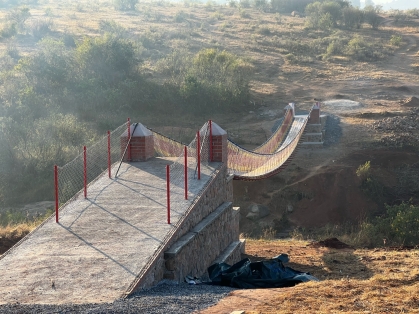 and take an OSHA safety course prior to their departure. He adds, "They had to learn about the local community and their culture and adjust to the local environment, which was a totally different and unique experience for them. And on top of that, they put in a lot of physical work and effort every day. So, it was quite an accomplishment – and really a once-in-a-lifetime experience for them."  
The project gave the team invaluable hands-on construction experience. "Engineers typically don't build walls, roofs, or foundations with their own hands," Najm explains. "Rather, we rely on trained technicians – iron workers, masons, carpenters, welders, and more – to do the work. We guide and supervise them to make sure what they build is safe and durable. But the students built this bridge themselves with their own hands with the help from workers in the local community." 
With a project like this, according to Najm, the students also gained an understanding of critical safety issues, managing construction projects, and, a lasting appreciation for the workers and all that goes into the building of "mega" projects, such as big bridges, high rise buildings, and large stadiums. 
Since 2016, when SoE students established a Bridges-to-Prosperity (B2P) chapter, the predecessor of EIA, Rutgers students have participated in bridge projects in Bolivia, and West Virginia, as well as Eswatini.  
Surmounting Challenges 
Despite a number of challenges, the student team was able to finish the footbridge on time. Najm reports that the team was undaunted by such glitches as delays in receiving or running out of materials such as sand and paint. "Cultural differences, too, from food to language were a challenge. Water for showers was not always available. As well as a few minor incidents with dehydration and exhaustion that were treated on site."   
Najm insists that while participation in the project was good for the civil and environmental engineering department as a whole, it will be especially beneficial to the students, as it will impress future employers looking to hire CEE students.