Combining an Interest in Physics and Mechanical Engineering Theory with Aerospace
"What excites me most about engineering is being able to connect the theory I learn in class to a real-life project." –Aryanna Arcilla 
Aryanna Arcilla is passionate about aerospace engineering. Captained by Arcilla, the Rutgers Rocket Propulsion lab team – a member of parent organization American Institute of Aeronautics and Astronautics (AIAA) – competed successfully in the June 2022 Spaceport America Cup. The Rutgers RPL team was the only team to fully launch and recover all parts of a two-stage rocket equipped with a GoPro camera and won the GoPro 360 Video Challenge. After graduating, Aryanna Arcilla will pursue a master's degree in aerospace engineering. Her thesis as part of the J. J. Slade Scholars program will explore and analyze the benefits of solar propulsion in long-duration space flights. 
Why mechanical and aerospace engineering?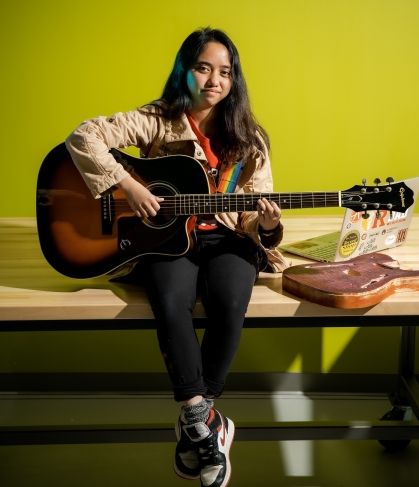 I chose aerospace engineering because I love learning about systems for flight and space travel. I also enjoy learning about physics and mechanical engineering theory, especially when it pertains to supersonic and spacecraft applications. 
What excites you about your engineering education? 
What excites me about engineering is being able to connect the theory I learn in class to a real-life project. It's especially rewarding to inspire younger students on where classroom education can be applied – such as on a rocket. 
Besides the AIAA RPL, have you been involved with campus activities and organizations? 
I'm also a part-time employee at Rutgers Makerspace. My main responsibilities include leading the efforts on the Makerspace's Computer Numerical Controller (CNC) Milling machine and woodshop, as well as leading students in making their own custom electric guitars. We focus on re-creating rare guitars that are no longer in production, or on combining parts and ideas from different guitar companies to make a truly unique instrument. 
Have you learned anything about yourself at Rutgers that surprised you? 
I never saw myself as much of a leader in high school. Once I stepped up to lead more projects at the RPL and eventually rose to team captain, I discovered I had a newfound confidence and passion to create a sense of community for engineering students. I wanted them to be able to find their place and feel inspired to be creative. 
Where do you see yourself in the future? 
My goal is to make an important contribution to the space industry. I'm always keeping up with space news, and one day I want to be able to see an article and tell my friends and family, "I worked on that." 
Do you have any advice for incoming students? 
Always find a way to connect your classwork with a physical project, and make sure you like it. This can come in the form of research or an engineering club such as AIAA RPL.  
What three to five words describe your RU SoE experience? 
Motivating. Interactive. Rewarding.