Rutgers CHANGE Program Introduces Engineering to Middle School Boys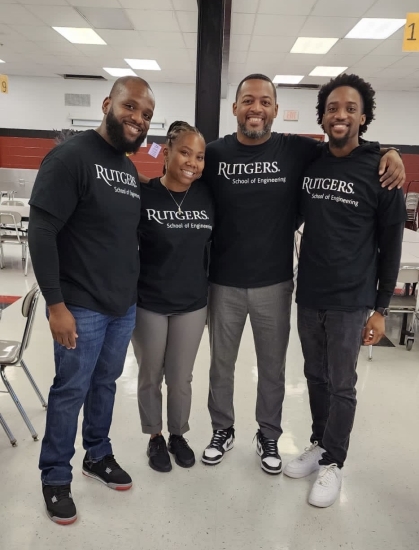 A group of Rutgers School of Engineering deans and students are introducing an otherwise underrepresented community to the opportunities of an engineering education. The Changing a New Generation of Engineers program, or CHANGE, launched in October with 15 male students at the Rahway 7th and 8th Grade Academy with full support from the Rahway school district, parents, and teachers.   
CHANGE, an inclusive program open to all Rahway 7th and 8th Grade Academy students, focuses on exposing participating students to the field of engineering. Through CHANGE students gain access to workshops, hands-on activities, competitions, and STEM developmental opportunities, is designed to introduce the students and their families to engineering and STEM before they reach high school—a critical time to begin preparing for college. 
This innovative program is the brainchild of Shareyna James, undergraduate education/student services program development specialist at Rutgers School of Engineering, to fill a critical community need. 
"I presented the original idea when I was interviewing for my job," recalls James, who tweaked her concept to spearhead the initiative once she was hired in 2021.  
Working together with the program supervisor of science and technology education for Rahway Public Schools Susan Dube, James was able to get approval from the Rahway Board of Education for CHANGE.  
Opening Opportunities 
"Participation in the School of Engineering CHANGE program has opened opportunities for the participants to explore the world of engineering and has generated their interest in STEM," says Dube. "The engineering activities challenge the students to think critically while collaborating in the iterative engineering design process." 
While CHANGE sessions are held at the Rahway school on one Saturday a month, the students – many of whom have never seen a college campus – visited the Rutgers campus in February for Young Engineers Day during National Engineers Week.  
Students can continue their involvement with the program next year, as current 8th graders will have moved on to 9th grade and will have opportunities to serve as high school ambassadors, according to James, for the new cohort of students.  
Sparking an Interest 
 "What stands out the most is that we had some students who were hesitant at first," says James. "After some time with us, they opened up – and this was a win. Seeing the interest of the kids – some of whom hadn't even heard of engineering before this – has been so rewarding."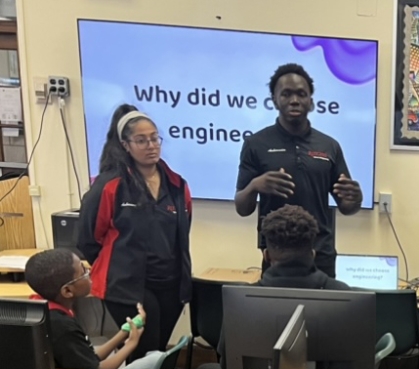 Senior Alfred Arina, an SoE student ambassador and industrial and systems engineering major would agree. He got involved with CHANGE in order to positively impact these students' futures by introducing them to engineering by presenting different topics and engineering activities. 
"As a middle school student, I wasn't even aware of engineering. I want it to be different for the future generation," he says. "Furthermore, I believe it's important to act as a representative to kids that look like me, allowing them to see themselves in my shoes." 
Working with the CHANGE students has rekindled memories for Arina. "They remind me of my younger self filled with enthusiasm and ready to explore the world. I enjoy giving them tools for success that I wasn't given while growing up," he adds. 
Connecting with the Community 
James reports that parents' excitement about the program reflects the enthusiasm of their children. "We do positive affirmations after every session," she says. "One student said that he never thought he could go to college, but seeing Rutgers students who look like him has made a difference. That is tremendous." 
Dube adds that "The program has been well-received by the school community, and we look forward to expanding it in the future."