Making the transition from high school student to college student is both a rite of passage and also a challenge. To expand opportunities among students pursuing an engineering degree, Rutgers School of Engineering's Engineers of the Future program includes a summer preparatory residency for incoming Educational Opportunity Fund (EOF) and Engineering Opportunity Program (EOP) students. 
The residential EOF Summer Institute gives students early exposure to SoE academics, introduces them to a supportive community and network of resources to help them navigate the engineering curriculum, and provides each student with a personalized, holistic plan for success. 
The Program  
"The most exciting thing to me about the  EOF summer program is seeing the difference in our students between move-in orientation and the closing program symposium," says Michael Brown, access programs assistant dean and director of SoE's EOF/EOP program. "Our students walk into the program with little knowledge about the Rutgers student experience – and often questioning their ability to attend college or an engineering program."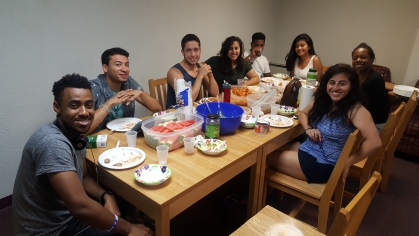 He adds, "By the end of the program, they're presenting research projects to the engineering community, navigating engineering resources independently, and have created a network of friends, mentors, and advisors. This growth marks the beginning of a new life trajectory for both the students as well as for their families." 
A Bridge to a Community 
As an entering freshman, biomedical engineering major Anmarie Aquino took part in the EOF Summer  Institute Program. In summer 2022, she was an EOF summer counselor. Helping to connect students with the EOF community was just one of her responsibilities.  
She also worked to "make sure the upcoming freshmen were safe and helped them adjust to college life and blossom into the aspiring engineers they are today," she recalls. "I enjoyed seeing their growth throughout the summer." 
For mechanical engineering major Layla Morisseau, the summer 2022 program gave her  experience with college level work and living before her first semester, "It really helped me adjust and prepare me mentally for the work to come," she says. 
A Bridge to Lasting Connections 
Like Aquino, fellow EOF summer counselor Maniyah Dixon was pleased to be part of the Summer Institute students' growth. "They come into the program and by the end of the month they gain so many important skills, such as time management, stress management, and study skills," the mechanical engineering major reports. "They learn how to navigate different curriculum sites and had built relationships with their advisors, who they knew they can go to with any problems – even those not academically based." 
Most important, students "learn to depend on each other if they need to, and that they have a support system as well as a family at Rutgers while they are away from home." 
Dixon – who plans to apply to be a summer counselor again in 2023 – notes that the students especially enjoyed and valued the connections they made with the many student organizations that were present, and with new friends in EOF.  
They also connected with her. "To this day some students still ask me for advice. I didn't expect this, but I'm happy they're comfortable enough to reach out to me when they need help," she says.  

"As a program we are most proud that our students have faced numerous challenges and overcome the odds to join us at SOE. On the journey to graduation, they will continue to face barriers, but with the support of our office and peers we know they can persist," says Brown "We have a proven track record of high program completion and graduation rates. These are amazing students who will land amazing jobs with top companies." 
*** 
The School of Engineering's Engineers of the Future program includes New Jersey's Educational Opportunity Fund (EOF) which gives financial and academic assistance to low-income New Jersey residents with demonstrated potential and academic and/or creative promise who meet financial requirements to receive grants from the state-funded program, while the Educational Opportunity Program (EOP) serves students in underrepresented populations who may not qualify for EOF but who are eligible for the same services and support.