Alumni Spotlight: Melissa Conner, ENG'13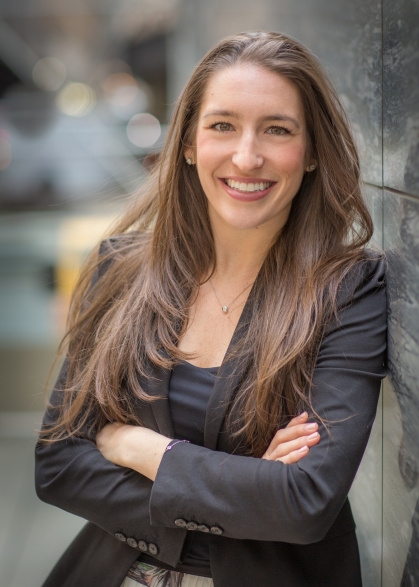 "If there was something you wanted to do or study at Rutgers, you could find a way to do it." –Melissa Conner
Melissa Conner, who received the SoE's 2021 Distinguished Young Alumnus Medal of Excellence Award, earned her BS degree in biomedical engineering, with a minor in Spanish. She received her MBA degree from Columbia University. While she held roles of increasing responsibility at J.P. Morgan,  most recently serving as a life sciences coverage vice president, she recently assumed her current position as senior director of acquisitions for the Janssen Pharmaceutical Companies of Johnson & Johnson.
Why Rutgers?  
I chose Rutgers because of the seemingly limitless opportunities it would afford me in terms of my educational and later career path, extracurricular activities, and its strong athletic culture.  
If there was something you wanted to do or study at Rutgers, you could find a way to it.  
For example, studying abroad was a priority for me and, while typically challenging with the engineering curriculum, I used it as an opportunity to finish my Spanish minor credits, while studying abroad.  
What activities did you take part in?
I was active in Engineers without Borders, Biomedical Engineering Society, the Rutgers dance club, and the ski team. I still try to get to get to a Rutgers football game once a year, often with my Rutgers roommate.  
What drew you to biomedical engineering?   
My passion for science and medicine and the applicability of an engineering skill set to a wide variety of careers.  
Medical school was initially on the table. I shadowed a neurosurgeon one summer and realized then that medicine wasn't going to be career path I wanted to follow, but I still wanted to stay connected and involved in life sciences. I knew that an engineering background would allow me to pivot to industry and into a business setting, and work in a non-traditional engineering sense.  
What do you most value about your Rutgers engineering education?
What I value most was the way it prepared me for the real world, in the sense of having to seek out solutions to problems without being handed all the information or resources you might need; the ability to work with diverse groups of people in diverse settings; and the ties to a strong academic consortium, which I've found great importance in now working in the life sciences industry.
Did any professors mentor you or make a lasting impact on you? If so, who?
Dr. Prabhas Moghe, who was my capstone professor, did. His course and style of teaching and leadership had a profound impact on me. I was not at all surprised that he was promoted to executive vice president for academic affairs in 2020.  His promotion reinforced the sense of pride I have in the university when President Holloway recognized a leader such as Dr. Moghe.  
What led you to a career with JP Morgan Chase and an MBA?  
A summer internship with Integra Life Sciences in product development confirmed my desire to work in business development in the pharmaceutical or medical device industry. When I realized that type of role would not be offered to students with undergraduate degrees, I took an internship at JP Morgan to gain experience working in the financial services sector in a strategic role.  
I really enjoyed what I was learning, and saw a lot of value in the company, so a few years later, when I wanted to bring my career back to life sciences, I joined the corporate banking team for life sciences at JPM.  
I knew the MBA would help to round out the business experience I'd acquired at JPMorgan, and was particularly interested in Columbia's healthcare and pharmaceutical management track and saw the value it would give me to move through leadership roles in these sectors.  
All this has helped me transition back to the pharmaceutical industry, and into a business development role as I had desired, where I am now.  
How did your engineering degree help you in leading JP Morgan Chase's life sciences commercial banking team as a VP in Life Sciences Coverage?  
Engineering just gives you a perspective on business problems and projects that allow you to be analytical and think through creative solutions to anything – from the strategy to tap into a market and build a business around it, to training a sales force, or understanding company data.  
What led you to support women in the workplace?
 In my BME classes, I never felt like a minority. And luckily for me, my father – a scientist – always encouraged me to pursue a STEM education.  
However, my perspective was one of naivete: It wasn't until I was in the working world and in finance, that I became more aware of challenges that women might face and began to support women and advance their equity in the workplace.
Luckily, JP Morgan was a forerunner in advancing women and is one of the world's most highly rated companies for women to work in in the world
You have served on the board of Young Women in Bio – NY Metro and volunteered for Springboard Advisors – an accelerator program for female-led life sciences companies. Why are these initiatives important to you?
The ability to inspire younger women to pursue degrees and careers in STEM is very important to me as I know that many may not have had a parent in STEM as I did, or could see people to look up to in these paths. When I learned about Young Women in Bio through my work, I immediately wanted to get involved. I thoroughly enjoyed planning programs for young women and girls in the New York Metro area, including a mentorship program with medical school students, research and development lab tours, and – close to the work I was involved with – meeting the female founders and CEOs of emerging biotech companies right in New York City.  
Although my board tenure is up with Young Women in Bio, it's an organization I stay close to. I'm passionate about these groups and look forward to getting more  involved with them again.
What are your job responsibilities as Senior Director of Acquisitions at Janssen?  
I've been a part of the Janssen business development team for a few months. I look for companies that we believe have strategic value for us at Janssen, align with our values, and will allow us to advance health care for people around the world. I look primarily at acquisitions or companies we want to acquire, and plan and lead the execution of the deals.  
The relationships I developed with companies at JP Morgan and my foundational science background allow me to work with an expert team and dive deep into the technologies these companies are developing. It's so exciting and rewarding to be part of this ecosystem!
What do you most enjoy about your work?   
From day one I saw how inspiring the team around me is and how much of a culture of recognition and excellence J&J fosters. It lives by its credo and is a value-driven organization. This is a place I want to be.  
I also enjoy being able to tie a bow on and bring together all of the elements of roles and experiences I have had. Being able to drive change for patients and financial markets is really interesting and exciting.
What advice do you have for today's SoE students?
It's important to take the opportunity to meet people, whether guest speakers who come into classrooms, professors, or friends' parents who are in industry. Any opportunity to meet people and keep network connections (or "loose ties" as we learn in business school) warm pays off in the long run. Most of the moves I've made in my career have been through connections I've made.  
You've taken part in SoE career development events – do you have plans to continue your involvement?
I'd love to be involved more as I am coming to New Brunswick one or two days a week now to the J&J headquarters.
How would you describe your leadership style?
I want everyone on my team to have the same level of drive behind a project as I do and to feel inspired to accomplish our common goal. I try to be transparent, to let my team see that I lead with my values. I also believe that the more cohesive a team can be in terms of truly caring about and respecting each other, the better we will perform.
What do you do for fun these days?  
I enjoy cooking, traveling, and skiing. My favorite place to ski is Jackson Hole, Wyoming. I'm also trying to learn German.
Where would you go if you could go on vacation tomorrow?   
I'd go to Hawaii – I haven't been to Hawaii. I've made it a priority to see a lot of my own country, and Hawaii is one of ten states I haven't visited.