Meet Aerospace Engineering Student Noah McAllister
Senior Noah McAllister is majoring in aerospace engineering. His passion for the field has led him to research and internship positions both within the department, as well as with the Air Force Research Lab, and Lockheed Martin. 
Why Rutgers? 
I chose Rutgers because it is the only university in New Jersey to offer an ABET-accredited aerospace engineering degree. Additionally, the quality of education in the School of Engineering is unmatched for its price.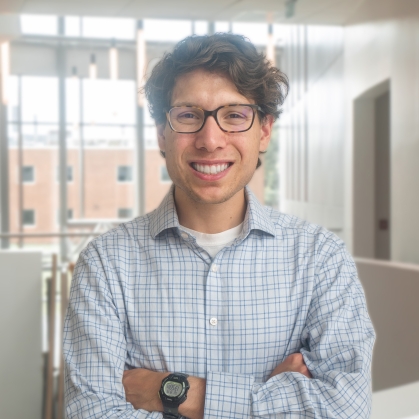 What drew you to aerospace engineering? 
I knew from very early on that I wanted to work on planes and rockets. My family will recount my childhood obsession with the Airbus A380: I would ask my parents to play the same video of the aircraft assembly over and over again. I knew that I wanted to major in aerospace engineering at Rutgers – thus, the Department of Mechanical and Aerospace Engineering (MAE) was the obvious choice. 
What impresses you the most about the SoE faculty? 
The quality of the research that Rutgers SoE faculty does is impressive. 
Have you been involved in any special research projects? 
I've worked in associate professor Jonathan Singer's Hybrid Micro/Nanomanufacturing Lab since my freshman year. In this research, I have researched thin films manufactured through electrospray deposition.  
I am currently completing my J.J. Slade project with a group in the Aerospace Systems Directorate of the Air Force Research Lab (AFRL) with whom  I'm working to create reference aeroelastic optimizations using Nastran (with geometry generated through the Computational Aircraft Prototype Synthesis program) for comparison to methods developed at AFRL. I'm also working on a tool to curate and compare optimizations created through different analysis systems. 
In addition, I'm involved in the Rutgers student branch of the American Institute of Aeronautics and Astronautics, and I am currently the branch president. 
Have you had any internships? 
I have had two internships: one at AFRL at Wright-Patterson AFB, and one at Lockheed Martin Space in Denver, CO. I worked on robotics simulations at AFRL, and systems engineering and structural analysis at Lockheed Martin.. 
What do you most value about your SoE education? 
I most value both the rigor and theoretical background of my SoE education. 
What are your plans for the future? 
I hope to work in an industrial / government R&D or analysis position in the future. 
What advice do you have for new students? 
Join an engineering student organization and apply for research positions! 
What three words best describe your SoE experience? 
Thoughtful. Challenging. Rewarding