From Abu Dhabi to the School of Engineering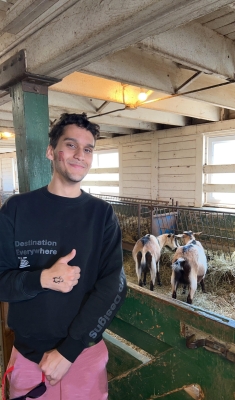 Coming all the way from Abu Dhabi, I had an infinite number of choices and opportunities – from universities in the United States, Western Europe, North Africa, and Australia.
When it came time to make my decision, I had two major requirements: a public university with a strong engineering program located close to a major city in the northeastern United States.
Rutgers School of Engineering is the only school that met both requirements.
So far, I've been able to contribute to meaningful research in artificial intelligence and manufacturing, work as a propulsion test engineer at Relativity Space, and spend my weekends touring cities like New York, Philadelphia, and Washington D.C. that are each just a train ride away.
Making Myself at Home
Before moving to the U.S., I was worried about making friends and finding a community 7,000 miles away from everything I knew.
My first few days on campus were daunting. It was not only my first time living away from home, but also my first time living in a foreign country I'd never seen before.
I soon found my community in the many social organizations at Rutgers, such as the Arab Culture Club (ACC), which became my home away from home. There, I've had the opportunity to meet Arabs from Saudi Arabia, Qatar, Lebanon, Jordan, and even Arabs brought up right here in New Jersey.
ACC community events include Sahra night, a formal attire event with dinner and a show, and Streetfest, a night were we meet up to share food and music.
The Society of Hispanic Engineers (SHE) is another community that has made me feel at home. It's where I can work on my social and professional growth as a graduating engineer ready to enter industry.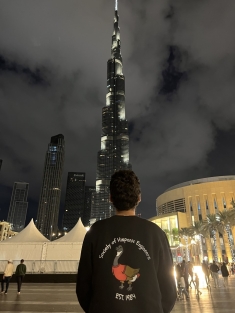 Getting to Rutgers
For international students like me, the application process is similar to that for an in-state student – with just a few extra steps.
Just like local students, I took the SAT, which allowed me to skip an English course. I also took AP exams that granted me college credit for gen-eds like chemistry, physics, calculus, economics, and statistics.
The only standardized test I was required to take as an international student was the TOEFL, which tests English proficiency.
One memorable portion of the Rutgers application was not having to supply an official transcript, which can be a headache to ship internationally. Instead, Rutgers allows us to self-report high school grades, requiring official transcripts only after I accepted my offer.
Fortunately, I was born in the US and had moved out shortly after, so I am a US citizen and am not required to deal with visa applications.
Overall, my application didn't differ too much from what any student goes through. But whenever I was in doubt, I'd call the admissions office for help.