MSE Alumna Speaks at SFIA Industry Leaders Summit on Impact of Title IX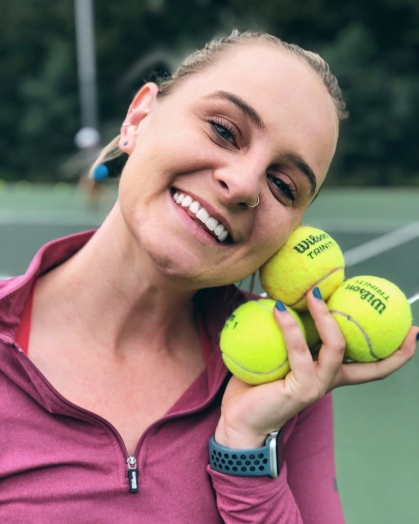 After graduating from the School of Engineering in 2018 with a BS in materials science and engineering, Chloe Lee launched a career with Wilson Sporting Goods Co. as an advanced materials engineer. In 2021, she was promoted to principal engineer, advanced materials in Wilson's racquet division. 
At Wilson she designs and produces new ball products. "I've produced the Triniti and Triniti Pro tennis balls, the first performance tennis balls designed with an eye towards sustainability and feature FSC-certified biodegradable paper packaging and last four times longer than standard balls," she reports. "I've also developed the Roland Garros line of tennis balls, the X3 andX3 Speed padel balls, as well as the TRU32 and TRU 32 Pro pickleballs." 
In October, she was among the female executives who spoke at the Sports & Fitness Industry Association (SFIA) Industry Leaders Summit in Chicago, which honored, in part, the 50th anniversary of Title IX.  
Discussing the Impact of Title IX 
Title IX dramatically leveled the playing field for women athletes both on and off the field. In considering "How Title IX Changed the Face of Sports and Our Industry," Lee discussed its impact on the sports industry and product innovation – and how it helped develop an ecosystem for products designed by and for women.  
"I'm so grateful for this opportunity to not only talk about the importance of Title IX, but also about how we can design products for women that empower them as athletes," she says. "I found a perfect career that blends my passion for sports and my skills as an engineer. We need to consciously open more spaces for women in these industries. I was thrilled to be able to share my experiences and insights on how we can continue to move the needle at the summit." 
Lee, who was a member of Rutgers' Women's Tennis Team as a student, continues to play tennis. "I love tennis and will always find myself on a court. The best part of Wilson is that I get to playtest new products in the prototype phases. There's nothing like playing tennis on a Friday afternoon and calling it work," she says. "I've also recently picked up pickleball and padel."